Saturday, May 9th, 2009
---
8:02 pm
- (sigh)
I had several friends graduate today. :( I'm going to miss them, a lot. However, soon enough I will be at UTC with Katie, and that is always a plus! I know we will keep in touch, but it's just not the same when we take the same classes together each semester. I don't know, it just sucks....
This makes me feel lonely...and I already feel lonely since my best friend in the entire world has basically abandoned me. She had something very traumatic happen and she did not want to talk about it to anyone...she just told me, "I need time by myself to not talk to anyone including my husband, and please dont ask me about it." She didnt speak to me for a week..and now every time that we do speak it's like spacy conversations. She used to tell me EVERYTHING! It's like there is a wall up in between us now. I dont want to ask her about it either..the whole respect thing.
Candy is the person I always want to be there, and since she is not...I feel like no one else is either.
The only person that I have is James. Yeah that's great and all..but we are possibly in the middle of divorce. He's not the person I want to confide in...
My brain is just so scattered..and i'm struggling within myself. I'm having so much trouble making decisions, even with the smallest things. I wish I could hire someone to make them all for me and everything turn out for the best.
I need to go out and have fun, but I dont want to do it alone. I feel like i'm loosing everyone and everything.
Monday, May 4th, 2009
---
11:39 pm
- I've made it
through another day. I've actually been rather content throughout today as well. I took my Spanish exam...who know's how I've done? But..honestly, im at the point of fully knowing that I no longer have a 4.0, but I cant keep stressing over something that simple. There are soooo many people out there that have much less. I think that I just got lucky because the first half of the semester before our divorce started..I was doing awesome..so the bad grades actually just leveled out. But whatever.
All of my friends are transferring out in fall. :( Seriously..all of them. I would be..but i've decided to change my major to nursing since James is leaving. Not exactly what I had planned...or really even wanted to do, but there will ALWAYS be Jobs, and for Samuel..I need to always have stability. Now, if for some reason James moves back in...and I feel that it is permanent..I may continue with what I had planned.
I havnt had to work in the last (almost) 2 years. I've been overloading with school, trying to get through it faster. My new job search has been terribly difficult; however, I finally found a job and have an orientation for a second job on Thursday. It has taken me almost 3 months to even get interviews! The economy is horrible. I feel really bad for anyone job searching in this moment.
My life is so dramatic right now. It hasnt been dramatic in a very long time, and it's not an adjustment that I'm enjoying.

current mood:
calm
Sunday, May 3rd, 2009
---
11:53 pm
- lost
You know that feeling of death, and knowing that not one person that you love would want to be there to say goodbye. That feeling that you are going to die old and alone. That's one of the big purposes of getting married... So when you get to the point of old, and health issues...you can take care of your spouse, or they can take care of you. I'm not going to experience that. I can't do this again. I cannot experience the pain...not one more time. I'm in despair...and I can't find my way out.

I'm just lucky that I finished out this semester at school. I've wanted to drop out every day. I have 2 more exams...Monday and Tuesday. I can finish, and hopefully by fall I can be me again.

Im better some days...then I have nights like this. I want to be numb, not dysfunctionally happy and then it all come crashing down in to reality...unhappiness.
I need therapy....serious therapy.

current mood:
lonely
Tuesday, March 31st, 2009
---
10:53 pm
- ..
I do not even know if I still have friends on Live Journal. I don't care. Maybe that's a good thing. I just want someone to hear me. My life has fallen a part. I have made the stupidest decisions in my life. I have always been the girl who never listens to anyone. I built my entire life around James. I built him. I built our family. We have a son. Everything has crashed down.
I've never felt so much pain. I just wish this was that 16 year old girl "pain."
I thought I was becoming numb. I'm not.
Everything just keeps getting worse. I want to run away...but I cant. I have so many responsibilities. I dont know what to do anymore.
I wish I could just start over. I can't. I could...but that means loosing so much more.
I can't save myself this time.

current mood:
depressed
Tuesday, June 24th, 2008
---
1:33 am
- Moderate Frustration.
I've got two mid-terms this week, and i'm stressing out. I have not been working on my speech as much as I should, so this is my own fault. Thankfully i've still got until Thursday and i'm almost finished due to the past 6 hours of not getting away from the computer. I'm focusing too much time on Public Speaking and not enough on Composition, and I do need to level it out. I have an exam tomorrow in Comp., and i'm really not sure how well i'm going to do. We also have a "surprise" paper tomorrow. I'm not sure of the topic because she gave me three to study, and once again I have not put that much effort into it. I wrote outlines for all three, but I have not sit down to memorize them like I should be doing. I dont have to, but it will make tomorrow so much easier.
I'm flying through Math. I get frustrated and want to quit every other minute, but that's okay. As long as I do not quit, I can stay frustrated all I want.
Well, off the subject of school....James is seemingly more emotionally available today. I like that. He's off work tomorrow, so I hope things go well, but at the same time I hope he leaves for a few hours with Samuel before class so I can study. Samuel is so wild, and he gives me no time to concentrate. I love him dearly though.
Okay, so back to the topic of school. lol I'm thinking about applying to UTK instead of going to Lee. I know I have no problem getting accepted into Lee, but UTK is less expensive and offers more of what I want to take. It's also not a private school, so this means I do not have to take all of those religion cores and spend $450 dollars a credit hour. This means less debt. We could always move to Athens, and it is only 20 minutes away from where I am now, and I could commute 30 minutes to Knoxville. It's an idea, although, I do hear there are sometimes waiting lists. Maybe that is not correct information. Who knows? I think i'm going to apply.

current mood:
exhausted
Monday, June 23rd, 2008
---
2:50 am
- Back to LJ
I was reading through old blog's from years ago that I had posted, and they are truly depressing. I have now decided that I should add more. The only time I write is when I'm not having a great day, and I havn't even done that in a very long time. School is depressing. It is hard taking care of my home, child, and husband and then going to class for 4 hours at night. Sometimes I want to scream and run away. I'm only grateful that I do not have to work, although, it would help to do so. Somtimes I wish I knew what it was like to live in a dorm, go to school, and have no worries except for my studies. I'll be 22 in September, and I do not want to be one of those people whom have done nothing by the time they are 30, because they decided to get married early and have kids. I've asked James if he would be okay with my going abroad to school for a summer semester. He has not answered me yet, but I am hopeful. I need a break from James, and I want to experience another culture. I love him so much, but I feel as if things are somewhat empty in our relationship. Maybe my going away and coming back will give it a newer feeling. We have been together for 3 1/2 years, and i'm supposing it is time. Even if I cannot do things how I want, a weekend away would possibly even work. We are always together, and some people are okay with that, but not I. I want a break every once in a while. I'm not clingy with him, and never will be. School is drowning me. Summer classes are shorter, and the homework is overloading. I'm doing speech after speech, and essay after essay. BLAH. Oh well! It will be worth it in the long run.

current mood:
blank
Thursday, March 13th, 2008
---
2:29 am
- Writer's Block: The Things We Carry
What do you always carry with you?

Hmm..my purse, phone, keys, a pen, a credit card, my drivers licenes.....all in which, are in my purse.

current mood:
sleepy
Tuesday, April 26th, 2005
---
2:07 pm
Adopt_a_jew_corp : it will take me until im 88 to be a millionare if i only save 100 a month starting now
OOHAYKUF : you could afford a really nice nursing home
Adopt_a_jew_corp : HAHAHHAHAAAA

If you invest $0 now and
$100 monthly at 6.00%, you'll be a millionaire in 70 years at age 88.

To
be a millionaire at age 55, you'll need to:



Increase the amount you
invest now to $108,179 , or

Increase your monthly
investment to $677 ,
or

Achieve a rate of return
of 13.62%.
When
adjusted for inflation, $1 million in 70 years would be equivalent to $129,858
today.

current mood:
amused
Tuesday, April 19th, 2005
---
6:56 pm
Asleep is my leg, this is all.

current mood:
bored
Sunday, April 3rd, 2005
---
2:03 pm
I'm moved. This is all.

current mood:
good
Sunday, March 27th, 2005
---
10:51 pm
This has been a wonderful weekend.

current mood:
content
Sunday, March 20th, 2005
---
9:13 pm
I shot a gun today for the FIRST TIME EVER!! It was way fun-ness. Herk and I went to the sand dunes and played with his guns. My arm hurts too....one of the rifles or whatever was just too much when I hit the trigger..and it kinda almost ripped my shoulder off..and now it's horridly sore.
ONE WEEK AND FOUR DAYS!!!!! until I'm in Chattanooga...I can't wait...I miss James so terribly much, and so many things have been happening that we couldn't be together..so finally it's going to change, and we're both happy about it. I miss his kisses (sad face).

current mood:
sleepy
Wednesday, March 9th, 2005
---
7:01 pm
I bought new eye shadow, and it's pretty.
Sunday, March 6th, 2005
---
1:05 pm
yeap....so the boyfriend and I have ended things...well not voicing it..but I know that's what's happened...and even if that's not what happened on his end..i'm ending it. Stupid he is. No, im not hostile or anything.
So anyways, I'm trying to move.....and trying to work out car stuff. I've been talking to this guy in Chattanooga about a room....but um, it's hella expensive..well not really expensive...just, for me to pay insurance AND pay that much rent..I can't do it. It's because he has 3 bedrooms...and uses one as a computer room. I don't really wanna pay for a computer room when i'd have my computer in my room anyways....so I dunno what i'm going to do yet.
Well....i'm complicated and somewhat whiny....I must go watch more sad movies.

current mood:
sad
Monday, February 28th, 2005
---
11:51 pm
I need a roommate

current mood:
sleepy
Wednesday, February 9th, 2005
---
8:08 pm
PleaseStopBiting: you'd have pretty babies with chris
PleaseStopBiting: with big heads
RosyTintedLife: no way
RosyTintedLife: hello
RosyTintedLife: they only have a fifty percent chance
RosyTintedLife: of having a big head
RosyTintedLife: mcDUH

current mood:
amused
Saturday, February 5th, 2005
---
7:30 pm
Mia died yesterday.....and I'm miserable.
I give up.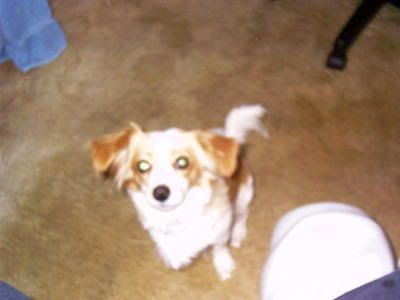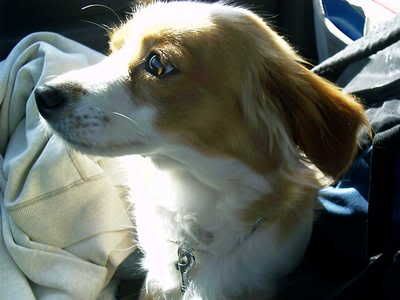 current mood: sad, discontent, upset, angry, careless
Monday, January 31st, 2005
---
7:10 pm
The phone rings, and rings, and rings.
Why can't it stop? I'll be on the phone for 10 minutes and i get 5 beeps. I'm not sure how much more I can stand.

Mmm Pizza!

current mood: I dont remember
5:47 pm
I don't like this....I don't.

current mood:
depressed
12:20 pm
James couldn't call me on his lunch break. :(
I'm sure he will later...but yeah..at least he emailed me and told me he wasn't.
I miss him. Too much even.

Julie and Al are moving here again tommorow. They're leaving in the morning. I'm excited about Julie coming...but I really dont think Al like's me at all.
So I have lot's of staying in my room ahead of me.

current mood:
discontent